Russia's invasion of Ukraine in February 2022 prompted a swift reorganisation of editorial teams. Helsingin Sanomat and Ilta-Sanomat switched to 24-hour monitoring of news about the war, and reporters have submitted regular reports from Ukraine throughout the year.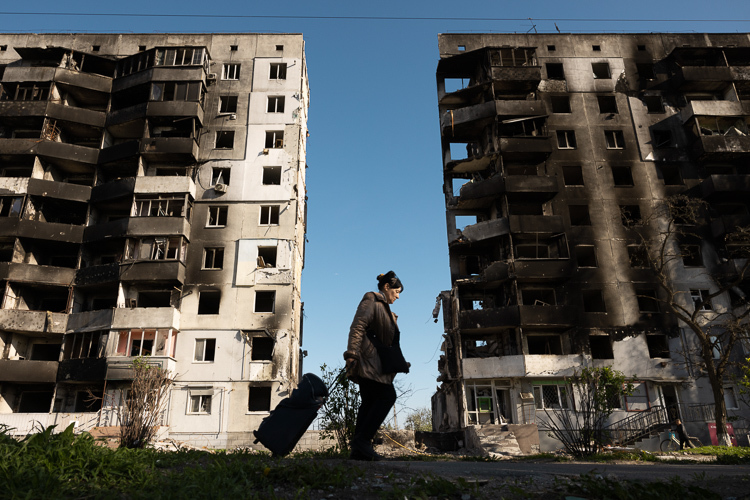 A woman walks by a destroyed apartment building in Borodyanka in May 2022. The city was badly damaged in the attempted Russian siege of Kiev. Borodyanka is located approximately 23 kilometres west of Bucha. Image: Rio Gandara/HS
"The editorial team have been working their socks off on a broad front throughout the year," says Antero Mukka, Senior Editor-in-Chief of Helsingin Sanomat.
"Right from the start of the war, it was clear to Ilta-Sanomat that we would do everything within our power to provide Finnish readers with a wealth of up-to-date and relevant information about the war in Ukraine. The history of IS alone obligates us to do it: After all, Ilta-Sanomat was established to protect democracy in the first place. Our figures show how much people trust our reporting on Ukraine," says Ulla Appelsin, Editor-in-Chief.
Since 24 February a year ago, Helsingin Sanomat has published 5,211 articles with Ukraine as the subject. The corresponding figure for Ilta-Sanomat is 5,663. In the regional media, there have been 3,644 articles on Ukraine. In addition, Helsingin Sanomat has published 449 opinion pieces on Ukraine written by readers.
Both HS and IS have continuously followed up on Ukraine throughout the year. Incredibly enough, Ilta-Sanomat's follow-up story has been read over 129 million times. The corresponding figure for Helsingin Sanomat is in excess of 36 million.
The people of Finland have also developed an interest in Ukraine. There was a sharp increase in the number of users on news websites in the spring. The figure peaked in week 9 (2022) when HS had more than 20 million and IS more than 60 million visits.
"There is still huge demand for information, and we must meet this challenge. The cornerstone of quality journalism, reliable and up-to-date information, is now much appreciated, as essential facts must be separated from fake news and war propaganda," says Antero Mukka.
War reporting is a joint effort reaching new audiences
The news coverage of Ukraine has been made accessible to different target groups. In the weeks following the outbreak of the war, HS made its stories available to all readers. HS Children's News published articles on Ukraine that explain the crisis to school-age children. Helsingin Sanomat and Ilta-Sanomat also published news about the situation in Ukraine in Russian.
"Very soon after the outbreak of the war, we put together an extensive article on the suffering of Ukrainian civilians. The article was translated into Russian. As a result, IS was the first Finnish media outlet to have access to its website blocked by Russia," says Ulla Appelsin.
Since the start of Russia's war of aggression, Helsingin Sanomat and Ilta-Sanomat's reporter and photographer have reported from Ukraine on a regular basis. This ensures first-hand knowledge of events in the crisis areas.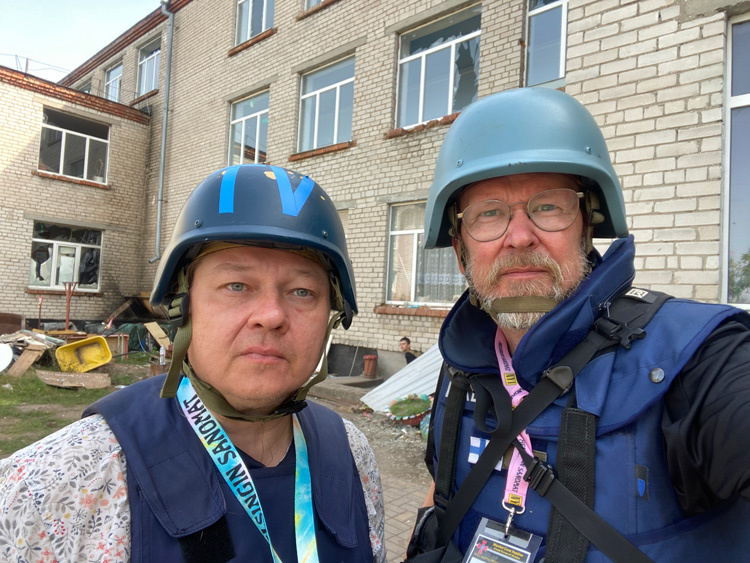 Petteri Tuohinen and Kalle Koponen of Helsingin Sanomat report from Ukraine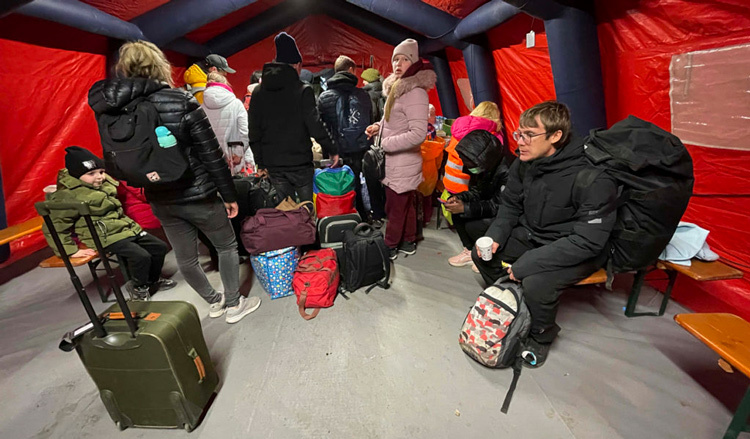 In February 2022, Ilta-Sanomat's reporter Mikko Marttinen travelled across Ukraine, reporting on the ground from a country caught in the middle of a war. Here, he is at a Slovakian border station. Image: Antti Hämäläinen/IS
When working in a war zone, ensuring the safety of our journalists is a top priority, and we carefully prepare for the story gigs. Many journalists have described reporting in Ukraine as being particularly memorable.
"In Ukraine, they have come face-to-face with things your average journalist will never encounter. They have witnessed the horrors of war with their own eyes and ears," says Antero Mukka.
The journalists and photographers who have visited Ukraine are seasoned professionals and many of them have previously worked in crisis areas. After returning from war zones, they have the opportunity to talk to occupational health. Psychological support is also available to people other than those who have been in Ukraine.
The war has also been closely followed at the newsrooms back home. Finns are also especially moved by the impact of the war. For instance, ISTV's Ukraine studios have been extremely popular.
"Reporting on the war has been a joint effort by the whole editorial team," sums up Ulla Appelsin.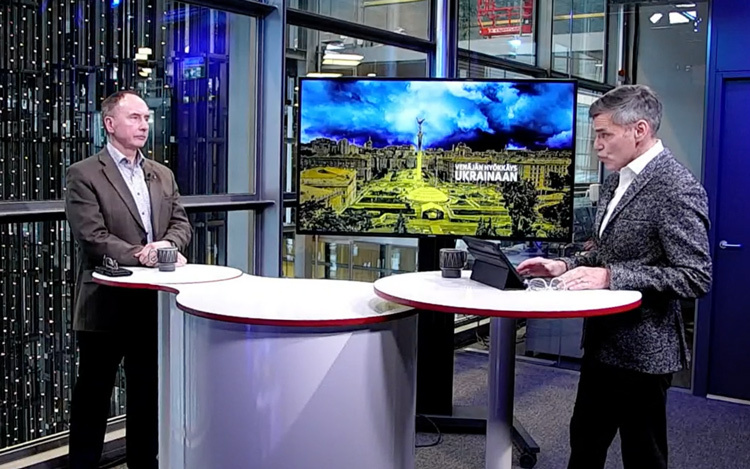 Ilta-Sanomat's Antti Virolainen interviews Major General (retired) Pekka Toveri in ISTV's studio.
Regional media report on the ways Ukrainians adjust to their daily lives
The situation in Ukraine has also been closely followed by regional media. At the same time, the angle on the impact of the war has been particularly local.
"Thanks to Sanoma's network, the regional media have been able to closely follow and report on the situation in Ukraine right from the start. This has made it possible to provide a huge amount of reliable, high-quality information. Thanks to the excellent level of cooperation, the editorial team of Satakunnan Kansa has been able to focus on the way the war reflects on our province, such as the lives of Ukrainians who have fled the war to Satakunta," says Hannu Pitkäranta, Editorial Manager.
Aamulehti has also reported on the arrival of Ukrainian refugees in the Pirkanmaa region as well as the conditions at the refugee centre, for example. The editorial team also sent a reporter to the Ukrainian border onboard an aid bus.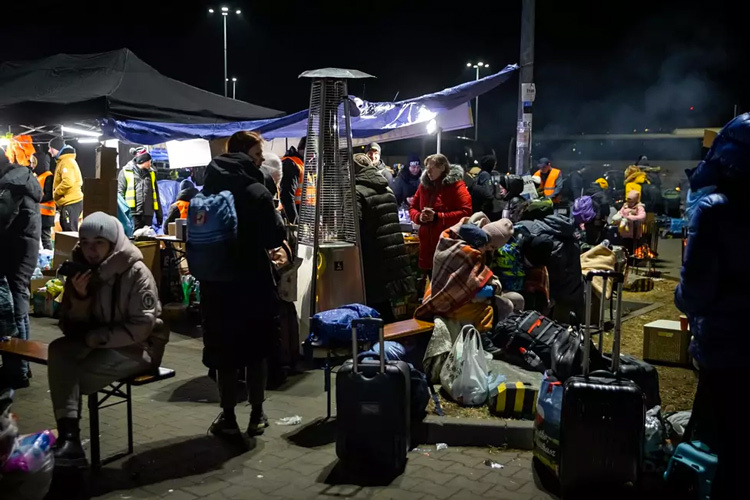 Early in March 2022, Aamulehti's journalist Elina Venttola and photographer Eeva Valtokari travelled onboard an aid bus from Tampere to the border between Ukraine and Poland. On the way back, the bus also took people fleeing the war from Ukraine to Tampere. Image: Eeva Valtokari/Aamulehti
The events in Ukraine have had a tangible effect on Finns, and they have also been reflected in the coverage of smaller local newspapers.
"Our newsrooms in Jämsä, Mänttä-Vilppula and Keuruu follow the everyday lives of Ukrainians who have arrived here and the way they adapt to their new surroundings. Most recently, we have been reporting on Ukrainian children and young people going to school here," says Eija Ruoho, Editor-in-Chief of KMV, Suur-Keuruu and Jämsän Seutu.
"Oxana Nastych, who fled the war in Ukraine, started as a columnist for KMV in February. Her columns are published online both in Finnish and Ukrainian in Cyrillic letters as non-paywall stories to enable the Ukrainians living here to read them," says Ruoho.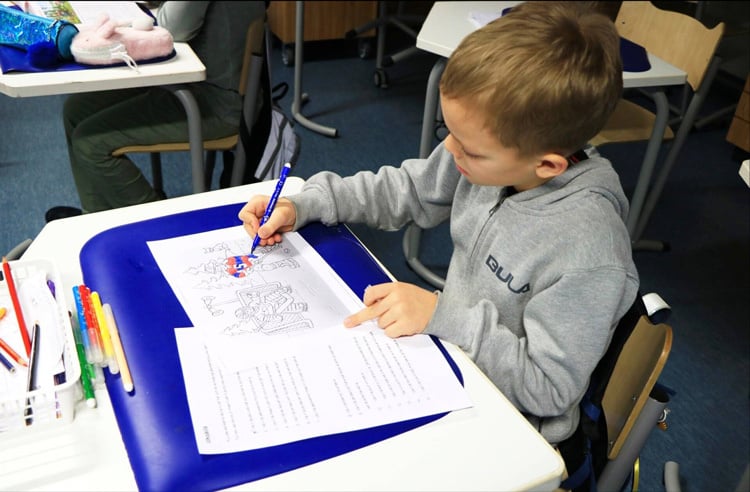 Year 3 student Stanislav Shvets learned Finnish at preparatory lessons using colours and clothes. From a text in Finnish, he learned which colours to use when colouring in the equipment of an ice hockey player. Image: Sallamari Lahtivuori/Jämsän Seutu
The anniversary of the war is felt in different ways
It has been exactly one year since the start of Russia's war of aggression. The anniversary of the war is to feature heavily across different media.
IS is organising a major Ukraine event featuring discussions with renowned experts, such as Pekka Toveri and Mika Aaltola, as well as direct reports from Kiev. There is also a Ukrainian children's choir performing at the Media Piazza of Sanoma House.
Aamulehti recounts the events of 24 February a year ago, moment by moment.
"We show in pictures what a year of devastation it has been for Ukraine. We also reflect on what the reconstruction of Ukraine will be like when the time comes. On the anniversary, the colours of Ukraine are displayed on Aamulehti's website as well as the printed version," says news editor Tatu Airo.
"To mark the anniversary, we take a look at the lives, moods and work situations of the Ukrainians who have relocated to the region whom we have met during the year. We want to remind people that the war goes on, making life hard for millions of people every day," says Hannu Pitkäranta, Managing Editor of Satakunnan Kansa.