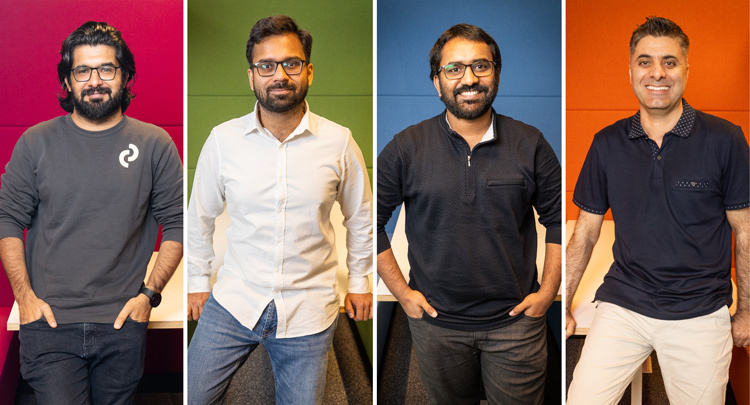 Ahmed Shafaat (vas.), Muhammad Faizan, Azhar Munir and Zahoor Khan tell what they would like others to understand about Ramadan and how the workday goes while fasting. Photo: Samuli Pulkkinen
Ahmed Zafaat, Muhammad Faizan, Azhar Munir and Zahoor Khan from Sanoma celebrate Ramadan
Ramadan, the sacred month of fasting for Muslims, ends on Friday. We asked four Muslims working at Sanoma what they would like others to understand about Ramadan and how the workday goes while fasting.
Ramadan, which has soon lasted a month, ends with the holiday of Eid al-Fitr which is celebrated this year on the coming Friday.
"The beginning date of Ramadan changes from year to year as it follows the Islamic lunar calendar which has 354 days. This means that Ramadan usually starts 10-11 days earlier than the previous year" explains Zahoor Khan, Solution Architect ja Head of Digital Advertising Technology team.
Even though Ramadan is best known for the fasting which lasts from dawn to sunset, the abstinence from food, drink and other physical needs is not an end in itself but a way of getting closer to god, Allah.
"It's about cleansing the soul, controlling your needs and strengthening self-discipline" Khan explains.
A big part of Ramadan, and Islam in the whole, is charity. A Muslim ought to share 2,5 percent of their salary and wealth to charity. According to Khan charity is understood to be more than just financial donations: doing good may also mean helping your neighbour or community in a way which is feasible to yourself. Not everybody has the means to donate considerable amounts of money, but everybody can afford to do something good for others.
"Fasting and charity during Ramadan are practices which complement each other, strengthen the relationship with God and your neighbours. By helping those in need we can show compassion and solidarity towards mankind."
We asked Zahoor Khan and three other Muslims working at Sanoma to tell what is not always understood about Ramadan, how it feels like to fast and how they will celebrate on Friday. In addition to Zahoor Khan Data Scientist Ahmed Shafaat, Lead Data Engineer Muhammad Faizan and Senior Data Engineer Azhar Munir answered the questions.
What kind of questions or misconceptions about Ramadan do non-Muslims have?
Ahmed: Ramadan is simply not about abstinence from food and drink. It's more about training ourselves to abstain from all negative behaviour in our day-to-day life. I think it's more about spiritual reflection and practicing self-discipline. Not all Muslims are required to fast: those who are ill, pregnant, breastfeeding, traveling or menstruating are exempt from fasting. And yes, we also abstain from drinking water.
Zahoor: Ramadan isn't just religious and only about not eating and drinking. It's more about increasing your spiritual awakening, self-control, attaining piety and giving generously. Besides, fasting has tremendous health benefits!
Azhar: Fasting is more about the soul than the body. The purpose is to be responsible for our duties to ourselves, our family and our work, seek for a stronger connection to our Creator, helping the needy and trying to mend fences, not speaking ill of someone and generally not speaking unnecessarily. Not eating from dawn to evening is more of a reminder of all that Ramadan is about.
Muhammad: Sometimes our colleagues ask if we can't even drink water during the fast. Yes, that's true. Sometimes you hear it being said that if Ramadan is during summertime in Finland, it could be lethal because in summer we have 21 hours of daytime but I think that it's completely okay for me.
How does fasting affect your daily life?
Ahmed: I do get a headache or tiredness since we wake up between 2 or 3 a.m. to eat. I think that's the reason why my colleagues may see me yawning during the day!
Zahoor: At the beginning of Ramadan, one might experience hunger or sometimes headaches in the first few evenings and may feel less energetic at times. However, the body quickly adapts and adjust and you even feel more energised and focused during the day. After the sunset I may enjoy delicious meals but I feel full after just a few spoonfuls of food. Body is amazing.
Azhar: It sometimes gets really hard to manage sleep during Ramadan so I usually end up somewhat sleepy at work at times, but other than that it's all good for me.
Muhammad: The initial couple of days are a bit challenging but after a few days, it gets pretty normal. I don't feel tired during the day but towards the evening I feel a little low on energy.
How would you like your employer or your colleagues to take notice of Ramadan?
Ahmed: A nap during the day would be fine. Haha!
Zahoor: Awareness and understanding about Ramadan, maybe accommodation for special events like Eid al-Fitr which is as big as Christmas for us. This would foster a sense of community and inclusivity. Employees might also want a quiet place to offer prayers or meditation during day time.
Azhar: My team has been really understanding regarding some schedule changes, or my occasional sleepiness. This opportunity to share our feelings about Ramadan was the only thing missing I think.
Muhammad: I would only wish to have fewer meetings as speaking consumes quite a bit of energy. I feel really fresh on such days when I don't have many meetings. Also, if Sanoma could give us a paid holiday for Eid al-Fitr that would certainly be a great incentive.
How do you celebrate Eid al-Fitr?
Ahmed: At home in Pakistan, we always get new clothes and Eidi (small gift amounts) from our parents and elder relatives. There are big family gatherings and feasts. In Finland, I usually celebrate it with friends, cook food together, go somewhere nice and just do nice things.
Zahoor: In my home country we participate in special congregational prayers in the morning, don our finest attire and share gifts and sweets with loved ones. We spend time with our family and friends, visit our relatives and relish delicious food together. The festivities typically continue for 2 to 3 days, as it is a public holiday. However, in Finland, after the morning congregational prayers in some nearby mosque, we often spend the entire day at work. I definitely miss the grand celebration of this festival in Finland.
Azhar: We eat and share wonderful home-made dishes and meet (or e-meet) friends and family.
Muhammad: We celebrate with family and friends. We usually book some community hall where families can get together and enjoy home-made festive food.
Translation: Anna Lassila