Sanoma celebrates the third Read Hour reading festival that challenges people of all ages to read more. The campaign will culminate in a joint reading hour throughout Finland on UN Literacy Day, Wednesday 8 September. The winner of the public vote, HS Lasten uutiset, which is the children's news section of Helsingin Sanomat newspaper, is a candidate for the Read Hour prize.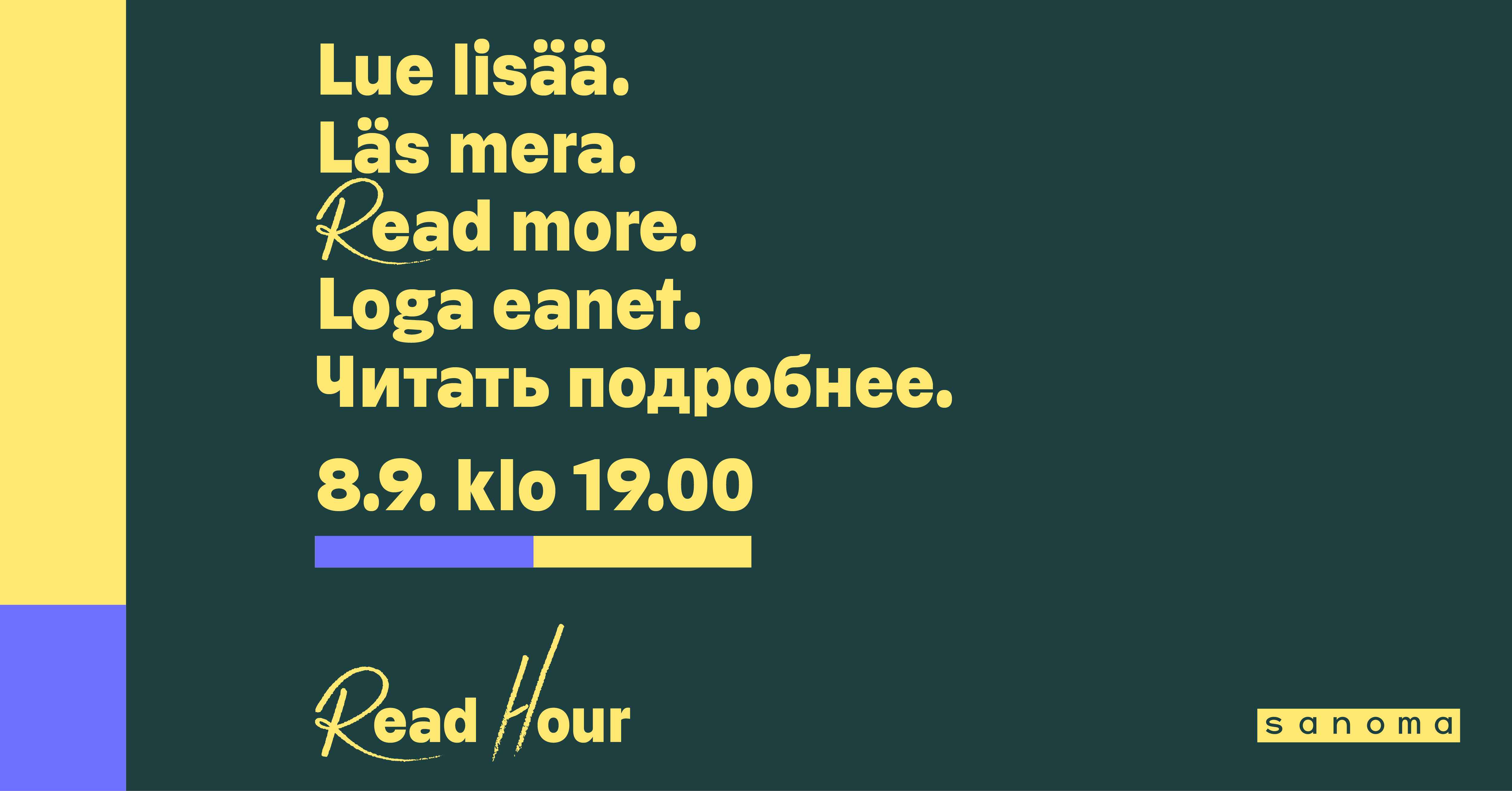 The aim of the Read Hour campaign is to inspire young people in particular to read, to establish a new festival dedicated to reading in Finland and to maintain social debate on reading. This year, the key message of the campaign, organized by the Children and Youth Foundation, is brief and to the point: Read more. The campaign has become international now as Read Hour is celebrated also in the UK, Sweden, Estonia and Iceland, through the efforts of various actors.
Sanoma has partnered with the Read Hour campaign from the very beginning.
"Sanoma´s media and learning materials support both literacy and media literacy. Our content, from alphabet books to news, and from Donald Duck to audiobooks, contributes to strengthening a culture that inspires people of all ages to read. By participating in Read Hour, we can encourage discussion about the significance of reading. In our sustainability strategy, our goal is to promote inclusive learning and independent, reliable journalism," says Kaisa Uurasmaa, Head of IR & Sustainability at Sanoma.
Ice hockey players reading Donald Duck, Krista Kosonen's reading circle and live Read Hour in schools all around Finland
The Donald Duck magazine, participating in Read Hour for the third time this year, has teamed up with some top names from the world of sports. A video, due for launch on the official Literacy Day, features ice hockey players Marko Anttila and Hannes Björninen, reading Donald Duck comics aloud. Donald Duck number 36 will be issued on time for the Read Hour campaign. In the magazine, runner Sara Kuivisto, who set several Finnish records at the Tokyo Olympics, describes how a runner became a true Donald Duck fan.
HS Lasten uutiset, issued on Read Hour day, 8 September, will tell everyone what and why you should read and why reading is a good idea. The newspaper will introduce actress Krista Kosonen, who will talk about how to run a reading circle and list this autumn's new and interesting children's books.
The audio content service Supla will also be involved in Read Hour. Audiobooks provide another way to develop literacy and inspire new audiences to read.
Sanoma Pro, a publisher of learning materials, encourages teachers to participate in Read Hour Live through their classes. Thousands of youngsters in schools throughout Finland will celebrate Read Hour. The event can be followed in here on Wednesday 8th of September 10-11 Finnish time.
HS Lasten uutiset nominated for the Read Hour prize in public vote
This year, the first ever Read Hour prize will be awarded in recognition of an act that has inspired children and young people to read in the past year. The general public had its say in nominating candidates and HS Lasten uutiset was the winner of the popular vote.
"It's great that we were nominated for the Read Hour prize. The prize will be awarded for an act that has inspired children to read, and that is exactly what our editors want to do. For us, this work is extremely significant and involves special responsibility," says Panu Jansson, acting Editor-in-Chief at Lasten uutiset.
Join the Read Hour reading festival
Read Hour culmites on Wednesday, 8 September, at 7 p.m. as all of Finland stops to read for one hour. You can participate in the reading festival also by joining the Read Hour event in Facebook.
Sanoma also wants to encourage its personnel to read more – and to take well-earned breaks during the working day. All Sanoma employees are invited to join the shared, virtual "Reading Room" that provides an opportunity to take a moment to focus on a favourite book.
Join Read Hour in Finland on 8 September at 7 p.m. Share your best reading tips and inspire others to join on social media with the hashtag #ReadHour.
Lue lisää. Läs mera. Read more.