Ilta-Sanomat has released a news app for Apple Watch smart watches. The app uses elements of the Apple Watch user interface and shows the front page as well as news headlines of different sections, sends news notifications, and allows news to be read on an iPhone.
Ilta-Sanomat gained good experiences in developing smart watch apps from a similar launch last November for a Samsung watch."We have learned a lot, and Samsung smart watch app users have also been satisfied. A survey amongst the users indicates that the app's ease-of-use is key. News headlines can be checked on the watch whatever the circumstance," says
Valtteri Vartianen
, development manager of Ilta-Sanomat."We want to be amongst the first to test the possibilities of wearable electronics. We believe that wearable electronics, such as smart watches, are next to change the digital world after mobile," says
Timo Rinne,
director online of Ilta-Sanomat.Predictions of Wall Street analysts about how many Apple Watches will be sold this year vary a lot, from 10 to 32 million.Currently, the Apple Watch is available in Australia, Canada, China, France, Germany, Hong Kong, Japan, Great Britain and the United Sates. Apple Watch is estimated to arrive in Finland during the summer.The Apple Watch app from Ilta-Sanomat is available in the App Store as part of the IS news app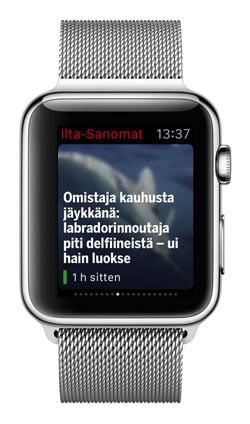 Further information:Timo Rinne, director, online Ilta-Sanomat, tel. +358 40 571 3634 Iltasanomat is the leading online brand in Finland, and the market leader in mobile services.Sanoma Media Finland is the most multichannel media company in Finland, well-known for its leading brands. We provide information, experiences and entertainment through magazines, newspapers, TV, radio, the Internet and mobile channels, reaching nearly all Finns every day. Sanoma Media Finland is part of Sanoma, a European forerunner in consumer media and learning.