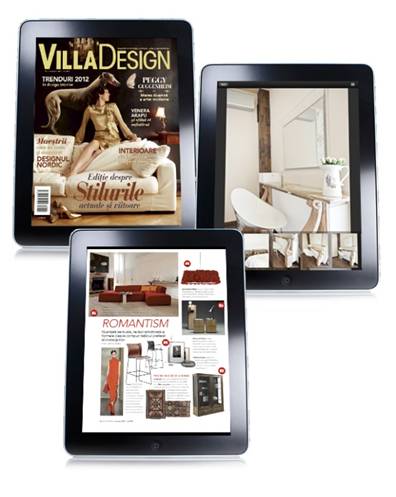 Sanoma Hearst Romania launches its first magazine on the iPad, Villa Design.
The Romanian home deco iPad app, Villa Design provides instant access to the most interesting luxury home & deco articles, seasonal trends, as well as the most recent collections, products and services in the field.
It contains multimedia content, videos and exclusive galleries, but also quick links to specialized websites and e-shops, thus enriching the content in the print edition.
Villa Design iPad app is available for download in iTunes for 1.59 euro. iPad users can also download for free, in the same app, the previous issue of Villa Design magazine.
The Villa Design brand targets home deco professionals, but also a reference for young talents that want to follow design, art or architecture careers. The articles are well documented and edited by writers, professors and art critics.

About Sanoma Hearst Romania:
Sanoma Hearst Romania publishes 21 magazines and owns 17 websites. Sanoma Hearst Romania is a joint venture of Sanoma Media Russia & CEE (SMRCEE) and Hearst Magazines International. SMRCEE is part of Sanoma and responsible for the activities of Sanoma's Media in Central, East and South East Europe. It has leading market positions in Bulgaria, Hungary, Romania and Russia. Sanoma is a strong European media group operating in diverse fields of media in over 20 countries.
For more information, please contact (not for publication):Adina Vasilescu, Digital Publisher at Sanoma Hearst Romaniaavasilescu@sanomahearst.com