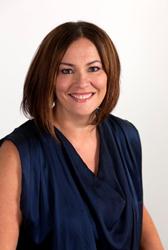 Sanna Myller – currently Sanoma Magazines' Director, Media Sales – is to take over responsibility for the b-to-b operations at Finland's leading magazine publisher. In addition to Media Sales, these include Sanoma Custom Publishing and Sanoma Technology Publishing.
Sanna Myller (41) has been appointed Director, Corporate Customers. She started as Director, Media Sales and a member of Sanoma Magazines' Management Group at the beginning of April.Sanoma Magazines´ b-to-b operations comprise Media Sales; Sanoma Custom Publishing, Finland's most experienced producer of customer magazines; and Sanoma Technology Publishing."Our corporate accounts are an important area of our business, and one where we see a lot of growth opportunities," says Sanoma Magazines Finland's Managing Director,
Clarisse Berggårdh
. "By grouping our corporate accounts together and putting them under the leadership of Sanna Myller, we will be able to develop them in a more concerted and systematic way, driven by our customers' overall needs.""We already offer our corporate customers some of Finland's strongest media brands, the industry's best target audience expertise, as well as cutting-edge content skills," says Sanna Myller. "By combining and developing these strengths further, and by increasingly drawing on Sanoma's other media activities, we will be able to offer an even greater range of media solutions capable of meeting a broader range of needs."Sanoma Custom Publishing produces over 30 customer, stakeholder, and employee publications in print and online format, and develops a range of other digital communication services. Custom Publishing produces
Blue Wings
for Finnair, for example,
Etiketti
for Alko,
Apoteekki
and
Avainapteekit.fi
for Avainapteekit, and
Prima
for the Confederation of Finnish Industries EK. Custom Publishing has been voted Finland's best custom publishing house for three times in succession (Taloustutkimus 2010, 2008, and 2006).Sanoma Technology Publishing's offering comprises Finland's number-one construction title,
Rakennuslehti
; the technology weekly
3T
, which was launched at the beginning of this year; and the home and living magazine,
Kodinrakentaja
.
 Further information:
Sanna Myller, Director, Corporate Customers, tel. +358 (0)9 120 5971
Sanoma Magazines is Finland's leading magazine publisher, with a portfolio of more than 40 titles read by over 3 million Finns. We are the market leader in women's and family magazines, children's and juvenile publications, and consumer IT titles. In addition to magazines and books, a growing amount of content and services is also available online today. Our Custom Publishing Unit produces multichannel communications services for many of Finland's leading companies. Sanoma Magazines is also one of the main partners of World Design Capital Helsinki 2012. Sanoma Magazines Finland is part of the Sanoma Group, a major European media company active in over 20 countries.