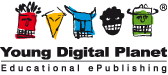 Get to know new products in Young Digital Planet's offer:
Digital Books Solution – BookShelf, a one-of-a-kind, comprehensive solution for quick and easy creation, management and delivery of high quality interactive books. It'll help you breathe life into traditional books and allow your customers to access them offline, online and on any mobile device. Read more here.

Assessment at Lower Secondary - A4L is a publishing solution consisting of educational eContent for revision and technologies that support all the stages of the ePublishing process. A4L allows delivery of ready-made assessment content and creation of comprehensive tests that can accompany various educational products. Read more here .

Comprehensive Curriculum – our special proposal consisting of selected elements of our core offerings. The package includes a pool of over 250 interactive lessons, flexible for easy localisation and adaptation along with a set of authoring tools and a flexible online delivery platform. Read more here.
Our new catalogue in PDF format is available here.
For more information on our new products, please contact us at info@ydp.eu.

About Young Digital Planet
Young Digital Planet is one of the world's leading educational eContent publishers and eLearning technology providers with a strong global presence. Since 1990, Young Digital Planet has been at the forefront of new technologies developing a range of educational learning solutions and services that meet evolving needs of customers in the publishing, educational and governmental sectors. Young Digital Planet is part of the Strategic Business Unit Sanoma Learning.
www.ydp.eu