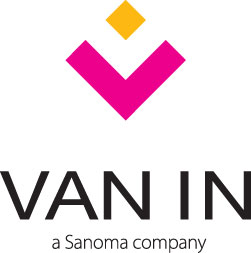 Van In has just launched a cool campaign for secondary schools in Flanders. The Boektoppers' product range - packages of five high quality paperbacks sold at the price of one - needed a boost: the current generation of youth does not consider reading books as 'fun' anymore.
Our challenge: convince them of the opposite. 'Hey guys, reading books is fun indeed, books are telling you a story. They aren't just made of words, they are also filled with places to visit and people to meet!'
To give the campaign more power and the stories more credibility, we asked three Flemish celebrities to promote our Boektoppers' stories and to share their reading experience with youngsters. The celebrities were selected for three different target groups: an Idol singer for 13 to 14 year olds, a well know actor for 15 to 16 year olds and a famous journalist for 17 to 18 year olds.
Another challenge: as the Boektoppers' license agreements are limited to distribution in schools, it's hard to get in touch with the end reader, the student. So we seized the opportunity of giving our three celebrities a leading role in a contest on Facebook. 70% of Flemish youth is active on Facebook, so it's the perfect place to start a conversation with them. With a cool prize - an iPad! – we persuaded teens to participate. Idol singer Kato even promoted our contest on her own Facebook page!
For Van In, this campaign is the start of the dialogue with our Boektoppers' target audience. Statistics show that we reach the right age group: today 50% are aged 13 to 17, versus 20% before the campaign. Let the interaction begin!
For more information, please contact Martine van der Steen, Marketer Secondary Education at Van In.

About Van In
Van In is the number one educational publisher in both Flanders and Walloon. Van In develops learning materials aiming at fundamentally improving learning processes. Van In is part of the Strategic Business Unit Sanoma Learning.
www.vanin.be

About Sanoma Learning
Sanoma Learning is a leading European provider of learning materials and solutions in print and digital format. We provide solutions that support teachers in their everyday work. These solutions enable personalised learning and increase teacher's efficiency by automating non-essential tasks, which frees up time for actual teaching. Sanoma Learning is part of the Sanoma Group, a strong European media group operating in diverse fields of media in some 20 countries.
www.sanomalearning.com