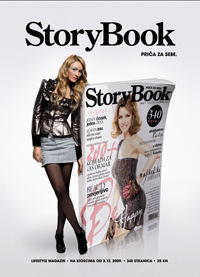 Adria Media Zagreb's celebrity magazine Story is launching StoryBook. StoryBook, with its slogan 'a Tale of its Own', focuses on the lifestyles of the stars. StoryBook presents, among others, celebrities' favourite restaurants, recipes, fashion choices and interiors. This way, StoryBook provides the reader with a celebrity lifestyle experience, while Story covers celebrities and their private lives.
StoryBook is published every quarter and contains 340 pages. The first issue is for sale (EUR 3.40) from today onwards with a title StoryBook: a Tale on its Own.
Adria Media Zagreb is one of the leading publishing houses in Croatia and part of Adria Media Holding, a 50-50 joint venture between Sanoma Magazines International and Gruner+Jahr with subsidiaries in Slovenia, Serbia and Croatia.
Sanoma Magazines International is part of the Sanoma Group's magazine division.