Habitare 09 furniture, interior decoration and design fair in Helsinki showcased a great example of unique Finnish collaboration, as Sanoma Magazines Finland's interior design magazine Glorian Koti designed, built, furnished and equipped a show house together with 18 of its leading partners.
A team of 19 partners behind a show house was something new for Habitare. The roots of the project go back to the Sanoma Group's Dutch magazine publisher Sanoma Uitgevers and its annual Woonbeurs fair held in Amsterdam, at which all the company's interior design magazines have their own show houses, as is the norm for the show.
"The fact that we were such a large group of partners, some of which are even competitors with each other, didn't prove a problem. Quite the opposite, as it reflects the fact that people's homes are full of products and materials from different suppliers and manufacturers. This resulted in a house which is like a real home in this respect, and shows what can be done when everyone contributes," says Minna Juti, Editor-in-Chief of Glorian Koti.
The interior design was the outcome of input from professionals from a total of ten companies. The house represents a new departure for Finndomo, the Nordic region's largest producer of wooden family homes, and is based on a flexible structure system. This new approach gives a virtually unlimited degree of flexibility in designing the optimum solution for different plots, family sizes, and people's personal preferences.
The idea for a new type of groundbreaking modular construction came from combining traditions from Africa and Finland.
"African villages are often based around huts grouped around an open area that serves as a focal point for cooking and getting together. In Finland, country homes have traditionally been built around a yard, with each building fulfilling its own specific role, for sleeping, storage, or whatever. The central space typical of both these traditions caught my imagination," says Yrjänä Vuojala Chief Architect at Finndomo.
The main partners in the project have been: Airas Design, BSH Kodinkoneet (Siemens), Finndomo, Gant Home, Lauritzon's, Oras, Saas Instruments, Topi-Keittiöt, Vepsäläinen, and Sanoma Magazines Finland/Glorian Koti; while Kekkilä, Fritz Hansen, Junet, Hästens, Silent Gliss, Nibe, Lumon, Samsung, and Orion Pharma have been involved in furnishing and equipping the house.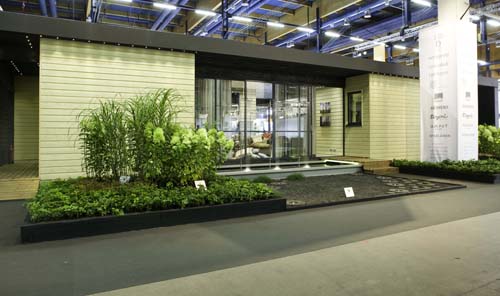 Sanoma Magazines Finland is Finland's leading magazine publisher and the market leader in women's and family magazines, children's and juvenile publications and consumer IT titles.
Sanoma Magazines is part of Sanoma, a strong European media group with activities in 20 countries.
Photo: Mikko Hannula, Sanoma Magazines Finland