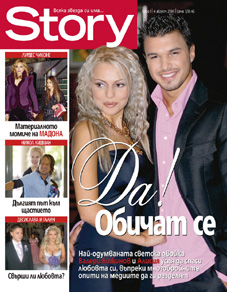 Sanoma Magazines is launching Story, a popular celebrity magazine, in Bulgaria on August 4, 2006. Story, developed by Sanoma Magazines, is among the most popular celebrity magazines in the Netherlands, Belgium, Croatia, the Czech Republic, Romania, and Serbia.
The stories in the magazine will show its readers the world of celebrities from the show business, sports, the art circles, etc. Each issue takes a peek in the homes of the stars, will show their preferred boutiques and will journey their favourite holiday destinations. Story will come out each Friday.
Sanoma Bliasak Bulgaria's magazine portfolio includes magazines like ELLE, Maximum, and Cosmopolitan as well as science magazine National Geographic.
Sanoma Bliasak Bulgaria belongs to Sanoma Magazines International which is part of Sanoma Magazines, the magazine division the SanomaWSOY Group.