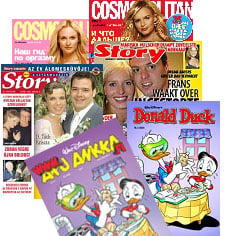 In the publishing world, magazines have a unique character: magazine formats travel easier than other printed media. Sanoma Magazines have great success stories of publishing both renown international titles and creating their own ones.
Examples vary from Donald Duck, which is published both in the Netherlands and in Finland for over 50 years - even after the original US based title has ceased - to the Divisions' own concepts, like Story, which is now published in six countries.
In total, there are some 20 different licensed titles in Sanoma Magazines' portfolio. The most wide spread is Cosmopolitan which is published in eight countries. Other important license agreements include e.g. Autobild, FHM, Men's Health, National Geographic, Elle and Elle Dekor, as well as Top Santé.
In addition to publishing licensed international titles, Sanoma Magazines has also created its own concepts that are used across the Division as well as licensed to third parties. Here are two examples of successfully licensed magazines.
Beneficial to All Parties
International license agreements are one of the best-kept trade secrets and vary from country to country. Contracts are usually quite long and their revenue model is based on the sales. It is mutually beneficial to both the licensor and licensee to make sure that the license titles are successful.
Even though most revenue is usually generated from own magazines, licensed titles have a great importance especially in the developing markets. They are well know by the readers and advertisers alike and can even improve the whole magazines market: When Sanoma Bliasak Bulgaria launched its first edition of Cosmopolitan in the Bulgarian market, it was able to triple the exiting prices for ads because the international brands were so eager to show off in a well known magazine.
Preferred License Partner
One of the objectives of Sanoma Magazines is to be a preferred license partner for international licensors. Sanoma Magazines has joint ventures with Hearst in Russia, Hungary and Romania. Apart from other titles, they publish Hearst titles in their respective countries. One of these titles is Cosmopolitan, which is now published in the Netherlands, Finland, Hungary, the Czech Republic, Romania, Russia, Bulgaria, and Ukraine.
Cosmopolitan's all local issues look very alike. However, also editors of Cosmopolitan have learned that local content is important since Cosmopolitan is more of a human-interest magazine than a title focusing on fashion and celebrities.
- Cosmopolitan has a very clear and concise format: women from 18 to 35 years, living independently before starting their own families. The readers all over the world have therefore similar interests, the Publisher of the Dutch edition Matthias Boswinkel explains. - Nevertheless each editorial department can make most decisions on a local level. This enables Cosmopolitan to travel cross-borders so easily, he says.
The Dutch Cosmopolitan has only about 20% international content and includes covers, main pictures etc. Since cultural differences can be great, most of the content has to be selected carefully to fit the local reader's mindset. International features - even if they as such cannot be used - will inspire the local editors for own stories on the basis of these issues.
- Clear format helps us to make the right choices for our edition, Boswinkel says. - We do not have to invent the content again in each country - just to bear in mind keeping a local focus on our articles and pictures. With the growing Anglo-Saxon influence, the local editions of Cosmopolitan are becoming closer to each other, Boswinkel concludes.
The Dutch Success Story
One of Sanoma Magazines own licensed titles is Story, a weekly focusing on stars and entertainment. Story was first launched in the Netherlands in September 1974 and it became popular from the first issue. The marketing department had predicted sales of some 200,000 copies, but even during its first year, Story reached sales of 700,000, which were later to grow to 900,000 copies.
The concept is simple: Story is friendly, cordial, warm and cosy magazine for ordinary people, driven by their curiosity about the rich and famous. Story and TV are inseparable: the magazine tells the stories behind the TV programs and their stars.
After the original success, the editors soon had the idea of transferring the concept to the Flemish-speaking Belgium. The editors in current Sanoma Magazines Belgium did not, however, wish to copy the concept as such but asked to adapt it to their market.
This proved to be the right decision. Even though the language is very similar in these two neighbouring European countries, a magazine about people for people must reflect the mentality of its readers. Story was launched in Belgium in 1975 and it made profits already on its first year.
With this in mind, the editors of Story in e.g. the Czech Republic (1995) and Hungary (1998) were given quite free hands in adapting the original concept to their markets. Best practises are shared: in Hungary, the original launch campaign, developed in the Czech Republic, proved to be success also. Nevertheless, nothing is forced on national editons - even the logos differ from country to country.
What remains common are the two features: dreaming and identification. The magazine has to provide its readers a possibility to dream of e.g. being in a party surrounded by the glamorous actors and actresses as well as a possibility to identify themselves with the successes and setbacks of the stars. According to the President of Sanoma Magazines International, Koos Guis, even if the international news is important in all countries, at least 50% of the content must be local to take the full advantage of the market.
Think global - act local is true for magazine publishing also!