The head of the new sector to be created from VNU's Consumer Information Group and Helsinki Media, Theo Bouwman, has been in the publishing business since 1979. He has seen a lot of changes over the years, not least in his portfolio of titles. He started off with two weeklies in The Netherlands back then; today, following the combination of CIG and Helsinki Media, he's going to be responsible for around 300 magazines in eight countries.
"This is a great deal for everyone," says Theo Bouwman, "for us from the CIG side, for SanomaWSOY, and for what is now our joint magazine business. And for me as a member of VNU's Executive Board, because I get to stay in the business I love and head up what we believe is going to be a European magazine champion. Everyone wins."
"I like magazines and I like the people who work in this industry – they're my kind of people," says Theo Bouwman.
The waiting is over
"The fact that the purchaser turned out to be SanomaWSOY, a group with a very complimentary magazines business of its own, and, above all, a group committed to magazines and growing in magazines, couldn't really have been better. As VNU's Chairman, Rob van den Bergh, put it, I believe we've found 'a good home'.
"CIG and Helsinki Media are both used to being leaders on our markets, we both know how small and medium-sized markets work, we both know how to make the most of segmenting the market, how to make licensing agreements work for you, and how to grow our brands successfully.
"And then, of course, there's the fact that magazines will now be SanomaWSOY's biggest business, by quite a margin, from now on. That can't be bad!
"From my own experience at VNU, I can very much understand how important the move is for SanomaWSOY, particularly in terms of the need to grow outside Finland. Today's VNU is a very international group, even more so after the sale of CIG, but 10 years back, VNU too was very strongly dependent on just one market, in our case the Dutch one."
Good timing, great opportunities
"I think the timing of the deal for the future of CIG/Helsinki Media is also basically a good one. Becoming a major player at this point in the game gives you a number of advantages.
"Being bigger will give us more leverage and give us more resources to take advantage of these new opportunities – and more potential to generate new ideas, and share ideas and ways of doing things. I'm sure that we can learn a lot from each other in developing and implementing new ideas and concepts together.
"Overall, we will have a larger pool of experienced magazine people, and more creativity to tap into. On a practical level, being bigger enables you to invest in things like better systems because you can use them more widely."
It's people that count
The most important single factor that has made CIG a success and driven its growth, believes Theo Bouwman, is its people – and people, he says, are what will drive the new combined business.
"People create magazines, people create brands and long-term brand value, and develop new ideas. By bringing people together from different markets and countries, you can do this internationally. The success of individual magazines feeds into the whole portfolio, and it's the whole portfolio that counts for the future.
"Knowing your markets inside out has always been a priority for me, and the key to being a leader. I very much believe in the value of local knowledge and local people in growing in new markets. Magazine concepts as such, for example, are not exportable, it's much more about sharing the ideas behind them and sharing experience and best practice. CIG's marketing skills in The Netherlands and Belgium, for example, have been invaluable in building market share in the Czech Republic and Hungary.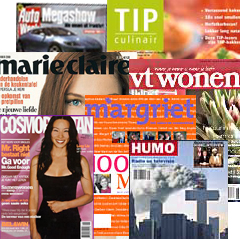 Some of CIG's magazines
"I always like to ask editors to have a very clear view of who their average reader is, to see them as a person. Writing for someone who you feel you know – their likes and dislikes, interests, and so on, rather than a vague mass – gives you a much better feel. Looking at some magazines, although not ours of course, you sometimes get the feeling that the people writing them have no idea of who their readers actually are, and don't seem to really care either.
"With a weekly, for example, you need to be as close to your readers as possible, but one step ahead of them. Not two steps, because then you lose them. And never make the mistake of thinking of yourself as the reader, because then there's no surprises for the reader!"
"I've enjoyed every moment"
Theo Bouwman (57) has been in the publishing business since the end of the 1970s and, in his own words, has "enjoyed every moment of it". But then he has always loved books and magazines.
"When I haven't read a book for a week, I really start getting 'withdrawal symptoms', and have to get started on a new one pretty quick. I've started dipping more into philosophy recently, now that my wife of 19 years, Rosalien, a historian by training, has returned to studying – for a philosophy degree!"
Coming to publishing and Amsterdam from a service industry company in Arnhem in 1979, Theo felt that he had 'come home'. Home was a small magazine company with just two titles: an opinion weekly founded during the Second World War in 1940, Vrij Nederland, and a football weekly, Voetbal International. The latter brought in the money, naturally, and is still the largest in its field in The Netherlands. The company steadily grew, expanding into new magazine titles and books, and was quite a bit larger when Theo left for VNU in 1994, to take over their magazines business.

At that time, the business was still quite fragmented internally, with five different companies in The Netherlands, two of which were the original companies that had merged to form VNU. By 1997, he had merged all of them into a single unit. In 1998, he took over responsibility for international magazine operations as well, and in 2000 joined VNU's Executive Board.
Text: Peter Herring